Our History
A BRIEF HISTORY OF MARC PEPIN DISC JOCKEY SERVICE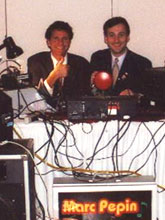 I got the idea to start up my business by going to my Christmas Dance at O.H.S. in 1975. J.D.'s Disco had just played and I told my friend; Barry Edwards: "hey, I could do that." I had a Traynor speaker cabinet and one V.T. speaker cabinet (with no horns). I also had a reel to reel tapedeck. I had a friend at O.H.S., Charles Frost, who had an amplifier, a light controller, and a preamp. We put our gear together and called it "The Disco Kid" I bought the latest 45's and together with my Beatle lp's I taped a 3 hour show for my first ever dance on February 14th, l976 at St. Vincent de Paul Hall. It was a teen dance, I bought some lights, shined it on our speakers and Charles and I split $60.
One week later, I got the call to do an adult dance at the Fredericton Junction Legion for $175. The first dance was done for fun but this was now becoming a business. I would pretape all my shows and hope everybody liked my music ahead of time on the reel to reel, no requests and at the two hour mark, it took 5 minutes to change reels. I kept on doing the Fredericton Junction Legion New Years Eve dances for awhile. My next big break, I got the Friday night contract to do teen dances every Friday at St Theresa's Church Hall which went on for two years. My only other competition at this lime was Ron's Disco from Oromocto. In 1977, I soon began Saturday night teen dances at the Oromocto Community Center sponsored by Benny Elms. Charles had moved away and his brother; Rainer had taken over helping me.
By 1978 I had made two new purchases: my 15" Cerwin Vega Cabinets with horns which I debuted at the Oromocto Kings Arrow Arena for a teen dance. I also bought my first double turntable/mixer/preamp at Tony's Music Box which now meant I played nothing but 45's. Rainer had moved away by now and I brought in Pat Clements to run my lightshow. The only disadvantage with 45's is that the local radio stations would have the 45's out one month before they were released to the public which made it very frustrating to be up to date all the time. This proved true when "Staying Alive" was released and I had to wait 3 weeks to get The 45 and it was the biggest song ever released during my dj career. It was so popular that at the first dance, I had to play it 5 times. I have never ever played a song since 5 times in one night.
In 1979, The O.H.S. Volleyball Club under Ed Welch had taken over the Oromocto Community Dances which were still popular. I had also done that summer my largest ever outdoor teen dance at the Oromocto Tennis Courts; 800 people and the wind kept blowing my needle off the 45's. I had to put dimes on them to keep them down. Travis Smith had taken over Pat Clements job and I now had two systems. I also got my first ever bar contract every weekend; The Mystique Cabaret in Oromocto which I enjoyed. I also started doing Albert Street and Gagetown Junior High dances and have had both contracts for 31 years. Curtis Baxter joined for awhile before heading over to the Chestnut. One highlight of 1979 was doing the all night dance-a-thon fundraiser at S.T.U. Disco was now out and I dropped the name "Disco Kid" to "Marc Pepin Disc Jockey Service" In 1980 I moved to Fredericton and started doing teen dances at the Crown Plaza (The old Lord Beaverbrook Hotel). They were televised by Channel 10 and put on by Brother Rick Productions. They were soon moved over to the Monsignor Boyd Family Center. I also started doing all the pubs on campus and the O.H.S. noon sockhops. This helped me pay my way through University.
In 1981, I bought tapedecks and dumped the turntables as I could make multiple copies as I now ran 3 systems. The other reason to switch to tapes is that in old dance halls with shaky floors, the records would skip. By this time I had started to do Corporate parties for companies and a lot of weddings and Christmas parties. I also hired Lloyd Despuis to help me out. In 1982 "Tainted Love" was released and this song was so dramatically different than anything before, the age of New Wave had been ushered in. By 1983 I was doing F.H.S, Harvey, Minto, and Stanley High School dances. George Street dances back then had huge crowds as well. In 1984 the dances at the S.T.U. cafeteria would be caked with beer when it was time to tear down. In 1985 I did the Canada Days Outdoor Teen Dance between King and Queen on York Street which -was very popular. In 1986 switched to cd players which meant no more spending the whole night fast forwarding and rewinding tapes and it also meant for a much cleaner sound. I also began my favorite bar contract of all time"; The Little Rock" which also threw the best parties of all the famous Beach parties with real sand and water. In 1987 I started up a Beatles tribute band; "Revolver" which I would include with my dj service at teen dances.
In 1987,"White Wedding" was released which meant that punk rock was becoming mainstream and it was a huge dance hit. Dave Lordan had joined my company by then. I also got more bar contracts: "The Rolling Keg" and at the K-Mart Plaza. I started to do singles dances at Keddys which went on for about 10 years and were later switched to the Capital Winter Club. I did some dances at The Minto Arena and at the Kings Arrow Arena for Pioneer Days. By 1989 I began my favorite gig of all time at the Diplomat Pool Bar. I played from 5-10 every night from May 21st to Sept 21st and got to play whatever I wanted and I didn't have to make people, dance; just play great music! I always used to end the night with "Kissing a Fool" by George Michael. I got to meet John Phillips of The Mamas and Papas that summer. Those were magical times until they tore the place down. By this time I expanded to 6 systems and hired Andrew Foreman, Mike Merill, Rob Kennedy, and Kevin Gough.
By 1990, I got the contract for Nicky Zee's and hired Fuji as my dj. He's still there but on his own. I also dj'ed my furthest place ever from Frederiction in Grand Falls at the High School hired by an old friend at University; Eric Robichaud. It was a three hour drive and I did it three times. In 1991 I switched from cd players to mini discs as now I could record cd's onto mini disc which has that great cd sound with no skipping. CD players could still skip with bad dance floors. In 1992, I expanded my light show, bought 3 fog machines and some high powered lasers which really added to the effect at teen dances. I also started to do Ballroom Dances at the Wandlyn which were quite challenging and fun at the same time. By 1993 I began dj'ing Monday nights at the Hilltop. In 1994 I got to dj with my idol; Wolfman Jack:, perhaps the best and most famous dj of all time. I was asked by Brian Miles to dj at Sweetwaters and I was thrilled that he asked me out of about 30 dj's from the area. I managed to get an autographed picture from American Graffiti which I still have today. In 1996 I got to dj at the famous Algonquin Hotel at St. Andrews for a classy wedding. I also started up a new bar contract at California Dreaming in Kings Place with the help of dj's Trevor Smith and Wally Banks. I even had to learn some new dance steps. In 1997 I met Bobby Hull at a dj function and dj'ed a great wedding: my friend Gary Morrison at the Crowne Plaza. In 1998 I dj'ed Rose Arsenaults nice wedding at the Delta. I was also dj'ing a great Christmas party in St. John for the local physicians at the Golf Course every year. Jose Serano joined my in staff in 1998 and also spoke Spanish and could play latin music.
By 1999, I dj'ed the FHS Christmas Formal at the Atiken Center and had begun dj'ing another great gig; doing sound bites for the Fredericton Canadians. This was a lot of fun as I used to have the whole place clapping along and could bring 3 friends to each game. I had now expanded to 9 systems and for New Years Eve of 1999, I had all 9 systems out! Bruce Robinson had joined me and was a valuable asset to the business and used to run it while I traveled with my tennis career. By 2001, I begun to dj the F.H.S. Basketball Christmas Classic Basketball tourney which was a lot of fun as well. I also did my biggest dance of all time, over 2000 teens at the Jeux D'Acadies at the Aitken Center. I used every piece of light and sound gear I had for that magical night.
By 2000, I had begun to do house parties with smaller systems, outdoor weddings under tents in people's back yards. I had also bought a karaoke system in 2001 and could offer that service at dances. I also begun the bar contract for Studebakers which was fun, I could play retro music which I enjoyed. This soon become the 20/20 Club. By 2002 I was dj'ing Safe Grad Parties for a lot of high schools. By 2003 I got to dj a very special Christmas Party for Premier Bernard Lord and was strictly his dj for all his functions. I was flattered to say the least. By 2004 I dj'ed every New Years Eve party at the Bear Island Community Center for Kathleen Brown. This went for about 6 years. By 2005 I was starting to dj backyard High School graduations parties.
In 2006 I scaled back my own personal dj'ing to strictly look after the business and kept it flowing smoothly. I had hired more staff: Tyler Hanley in 2001, Tyler Granter in 2002, and Scott Adams in 2003. In 2007 my dj's started to add their own laptops to the mini disc systems and our company was starting to do a lot of high school reunion parties. In 2008, Tony Robichaud joined the company, in 2009, Pat Stafford and Mike Lanteigne joined the company and in 2010; Dave Ferdinand came aboard. I also updated all my sound systems with new speakers and upload my light show as well. I'm very happy with my staff and all my updated equipment and I still will do the occasional dance in person. I've been at this 34 years, and very proud of it! I still love the business!
In 2013 Tony Robichaud who was a dedicated and loyal employee passed away. Tony also operated Solid Gold Sound and had repaired my gear since 1976. In 2013 I finally decided to use laptops as well to make sure I had everyone's requests on hand.
Marc Pepin
Owner
Marc Pepin Disc Jockey Service